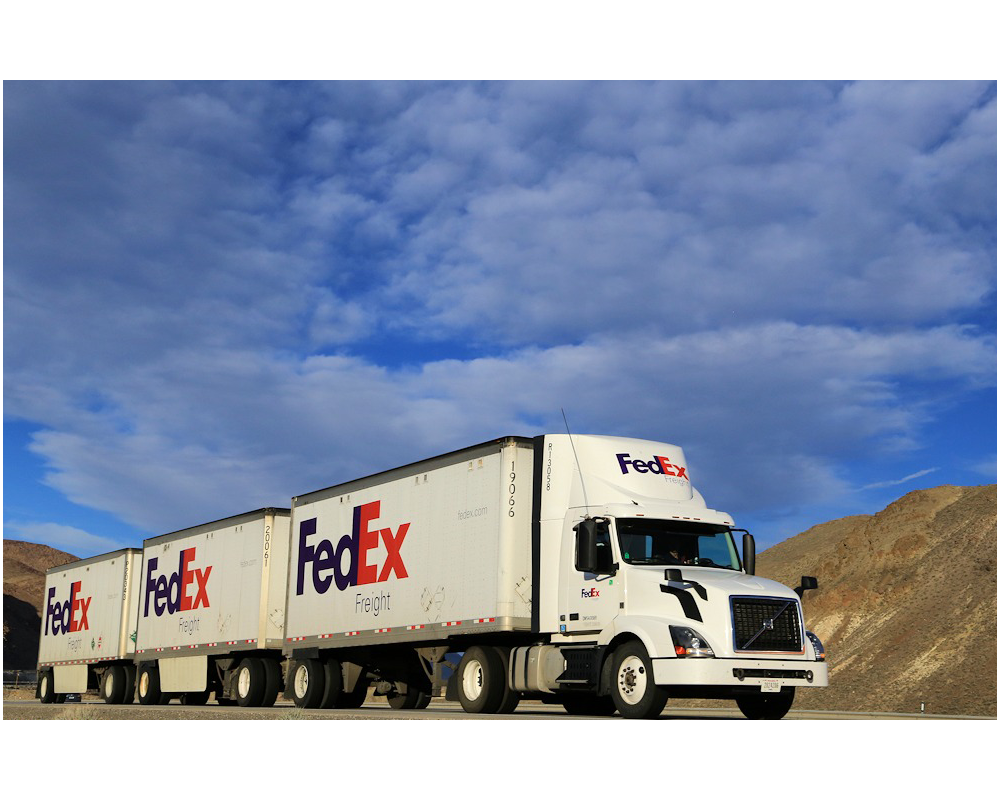 The next twenty-five years will see a huge leap in freight demand. Here's what the largest fleets are doing to prepare for that growth.
It's been widely reported that LTL carrier FedEx Freight is seeking government approval for the use of twin 33-foot pup trailers in its fleet. With the increase in freight demand that is steadily growing as a result of the current economic recovery, the carrier has said that the new configuration will increase its capacity by approximately 18 percent.
Interestingly, the carrier is asking only for a change in approved trailer length and not requesting an increase in trailer weight. It is able to make this request because most of its trailers carry relatively lighter weight goods that fill up trailer space in terms of volume but do not necessarily reach the weight limits.
As a result, it is more likely that members of Congress will view the request in a positive light since it is assumed the twin trailers will not contribute to excessive wear and damage to the nation's highways. This has been the basis of resistance to a wider debate on the topic of increasing size and weight of tractor trailers.
In Congressional testimony, Henry Maier, CEO of FedEx Ground, which has been testing the twin trailers in Florida, declared that the new 33-foot trailer combination would lead to 1.8 billion fewer miles driven, more than 300 million gallons of gasoline saved, and $2.6 billion in reduced costs annually in the trucking industry. He also cited the positive environmental impact this innovation would generate.
FedEx is not the only LTL carrier to support the use of the double trailers. UPS Freight and YRC Worldwide are just a few of the carriers who are pushing for the change. The American Trucking Associations is supporting the change, as well. Although several states already allow some use of the 33-foot trailer combinations, it has been 23 years since Congress made national changes to the size and weight limits.
If Congress does allow the longer twin trailers to take to the highway, fleet operators should take a new look at their transportation plans and fleet utilization. By consulting with a logistics expert, they can anticipate and simulate how these changes will impact fleet operation and driver staffing needs.  The consultation can give the owner or manager a solid handle on what changes should be implemented to run the fleet not only more efficiently but also more profitably.
A logistics consultant employs robust modeling technology to identify opportunities for savings, and develops alternative approaches to optimize equipment utilization. Typically, a logistics consultation can lead to average operational savings of 15-20 percent. Logistics consulting services are tailored to the unique needs of each fleet and can include productivity and customer analysis, routing and scheduling analysis and optimization, asset utilization recommendations and performance measurement systems.
Right now, many trucking executives leading medium-sized fleets can't envision twin 33-foot trailers being incorporated into their fleet make-up. Yet if the Federal Highway Administration's prediction comes true that long-haul truck traffic – that is, trips in excess of 50 miles – will double by the year 2035 from 2010 levels, twin trailers of this size may be in their future. The key is to think ahead and consider new ideas they may need to thrive in the burgeoning marketplace.
How will you adapt your fleet for the ever-increasing demand in freight? We'd love to hear your thoughts.
Image source: cdnmedia.endeavorsuite.com
This post can originally be found on the AmeriQuest Blog Website.