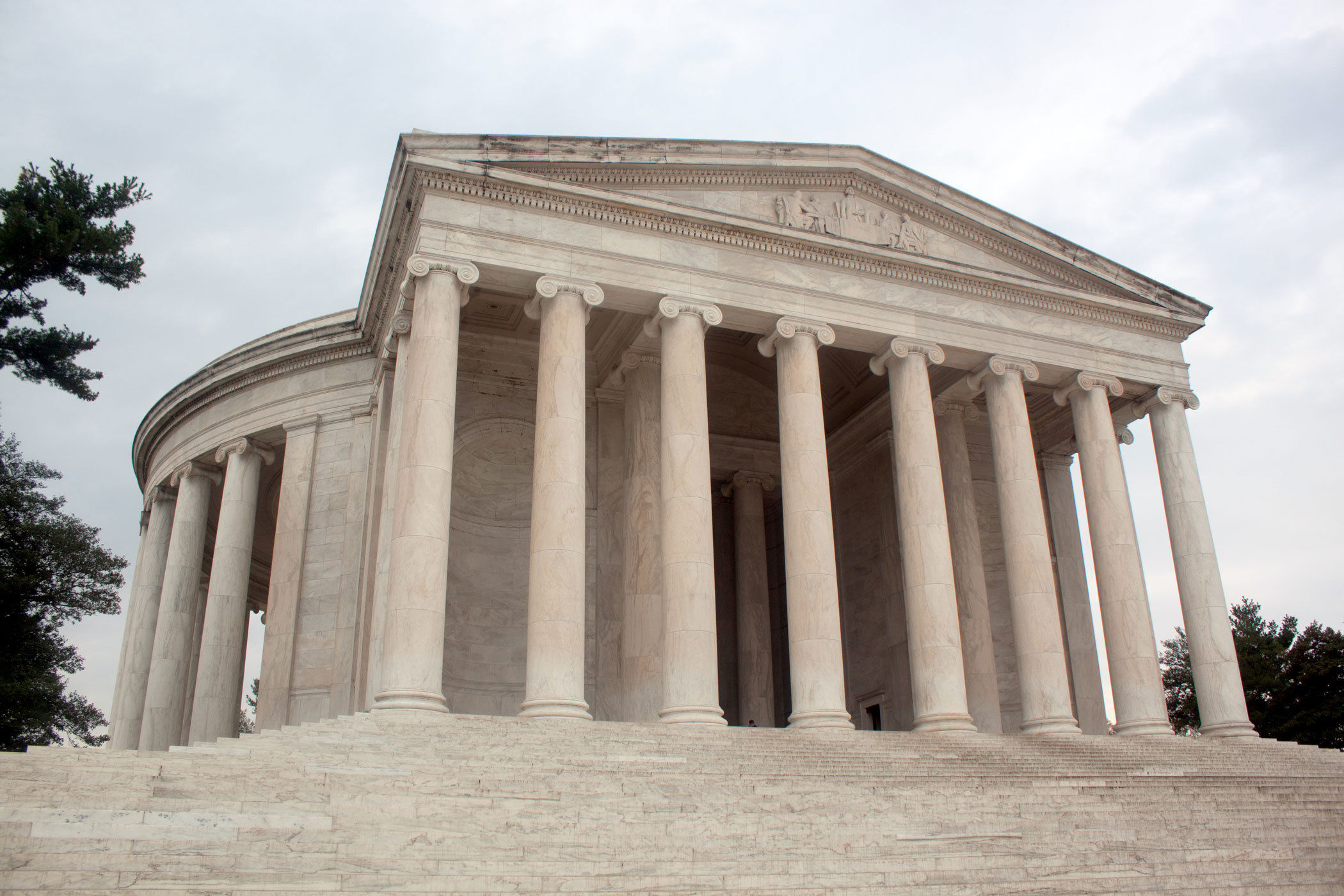 This month's On the Road takes a bit of a detour.  Instead of going out to visit members this month, Andy Stopka, our VP of Maintenance, and I traveled to Washington D.C. to take part in the Alternative Clean Transportation Expo.
Held at the Walter E. Washington Convention Center, this was the largest gathering of alternative fuel and clean vehicle stakeholders in North America this year.  Over 3,000 attendees and 150 suppliers attended the Expo, including  some of the biggest adopters of alternative fuels like UPS, Proctor & Gamble, Frito-Lay, GE, and FedEx.  Fortunately, Andy and I got into town with enough time to take in a couple of the sights before the 2 ½ information-packed days  of the conference.  On our first night in town, we visited the Jefferson Memorial and the World War II Memorial before heading to Capital City Brewery in time to watch the Blackhawks win the Stanley Cup!  (There were even a few other Hawks fans in the bar to celebrate with!)
We hit the ground running on Tuesday morning, as Andy and I attended separate breakout sessions to soak up as much information as possible.  I listened to a session on best practices for choosing an alternative fuel for your fleet (Natural Gas vs. Propane vs. Electric vs. Hybrid vs. Diesel) The consensus among the panel is that diesel is still the gold standard, based on both energy content and infrastructure, but it pays to look at all the factors–energy content, space, cost, and availability—to determine if there is an alternative fuel that can provide a return on investment for your particular application.  At the same time, Andy attended a session on the EPA's Smartway program.  Currently, over 3,000 fleets participate in Smartway, and 22% of all Class 8 highway miles are Smartway miles.  Andy also attended a session on Preparing an Alternative Fuel Maintenance Facility.  The biggest takeaway from this session was to make sure you have the correct local authorities involved right from the start.  Typically, the key person is the local Fire Marshal.  Facilities are classified as either major or minor repair facilities.  These each have different specifications which are determined by the local fire officials, but typically, For LNG, CNG, and propane, you must have proper gas leak detection equipment along with a backup generator for your exhaust fans at a minimum.
The Keynote Address was given by Thomas O'Brien, President and CEO of TA, who discussed TA's partnership with Shell to open 100 LNG fueling stations with the first one scheduled to open next year.  Maintenance and repair facilities for LNG tractors will also be available at all TA and Petro centers.  O'Brien said they felt it was the time to move forward due to the considerations of energy security, environmental responsibility, and ultimately, return on investment.  A panel discussion by the heads of each of the fuel councils (Propane, Natural Gas, Diesel, and Electric) followed, with each making their case for the adoption of their particular fuel and pointing out that technology advances and government regulations will play a big part in the future of usage for each.   The last session of the day was a panel of the Heavy Duty OEMs.  Representatives from Cummins Westport, Freightliner, Volvo, Kenworth, Navistar, and Peterbilt discussed the future of the Class 8 Natural Gas Engine.  Although Cummins Westport is the only OEM with a Class 8 NG engine today, all of the truck manufacturers discussed plans to introduce their own at an unspecified future date.  Less than 10 percent of truck sales are currently natural gas, but each of the OEMs sees that number continuing to rise.  CNG is currently the most prevalent, but the panel predicted an increase in LNG usage with the introduction of the 15L Cummins Westport engine.  They agreed that the running cost of NG engines is about 1-3 cents/mile higher than the diesel engine, and that the future of natural gas as a Class 8 fuel depends on the difference between natural gas and diesel prices, and the infrastructure rollout.  We ended our day with a stroll through the very impressive exhibit hall, featuring every variety of alternative fuel vehicle, from a CNG powered Ford Mustang to every make of Class 8 tractor, as well as a variety of related products and services.
Day 2 started with a Public Policy panel, featuring Nancy Sutley, Chair of the White House Council on Environmental Quality; Dan Utech, Deputy Director for energy and climate change, domestic policy council at the White House; Byron Dorgan, senior fellow at the Bipartisan Policy Center and former Senator of North Dakota; Chris Grundler, Director of the EPA's Office of Transportation and Air Quality, and Rep. Fred Upton, Chairman of the House Committee on Energy and Commerce.  They discussed a variety of public policy concerns including the Nat Gas Act, current and future EPA regulations, and government support of infrastructure for various alternative fuels.  The Keynote Speaker for the second day was David Abney, COO of UPS.  He discussed the journey UPS has taken to run 300 million "green miles" and reduce transportation by 300 million more.  UPS uses all of the available alternative fuel technologies in their fleet around the world, and Abney said the key is to match the technology and fuel to the usage.  He reiterated that progress requires good policy including bringing the FET on alternative fuel vehicles down to the same level as gasoline and diesel, bringing the fuel tax on LNG down to the equivalent cost per diesel gallon equivalent, and extending fuel rebates from 1 year to 3 years to allow for more certainty in planning.  UPS currently runs 112 LNG powered Class 8 vehicles, and plans to purchase 700 more this year as well as 35 CNG powered Class 8s.
The afternoon breakouts included a session on Early Stage Refueling for fleets that just want to try out the CNG product.  Andy attended this session and learned that there are basically 3 options today: 1) Two companies currently offer a CNG Fuel station in a box that is placed on your property for fueling. 2) There is a product called the Fuel Mule,  which is an on site fueling option where they come to your yard and fill your CNG units. 3) There is a home fill system that is targeted to the home consumer for cars and light trucks.  I attended a session on the Retail Alternative Fuel Refueling Infrastructure.  Representatives from Shell, Clean Energy, Trillium CNG, and Kwik Trip laid out their plans for building both CNG and LNG stations.  Shell in partnership with Flying J in Canada and TA in the U.S. has plans for over 100 stations, Trillium also has over 100 stations planned, Clean Energy in partnership with Pilot Flying J in the U.S. and others has plans for over 100 stations, 60 of which will be CNG, and Kwik Trip, operating in Iowa, Wisconsin, and Illinois has 11 CNG stations currently up and running with plans to build more in the three states.
On our last day, we finally got to some of the sessions we were most interested in—Alternative Fuels for Rental and Leasing and Heavy Duty Case Studies.  Hearing real-world examples of experience from fleets like Frito-Lay, Bison Transport, and UPS, we arrived at a few conclusions.  Running costs vary from 1-4 cents per mile more than diesel engines, but everyone agrees they are higher.  Uptime ranges from 75% to 93% and much of that variance is due to the maintenance practices at the individual locations.  Costs for maintenance shop modifications run between $300,000-$500,000 to modify an entire facility, or about $50,000 for a single bay.  Residual values are still hard to predict, but are typically being set lower than diesel engines on 15L dual fuel engines and 9L engines, and at a comparable level to diesel engines for the 12L.   Most of the fleets represented that are running the Natural Gas engines have plans to purchase primarily or only Natural Gas vehicles in the future.  Accessibility of fuel is still an issue, but enough providers are willing to work with fleets to build stations at little to no cost to the fleet, that it doesn't have to be a deciding factor anymore.
Between the sessions, the exhibit hall, and the conversations with other attendees, Andy and I picked up a great deal of knowledge as well as a number of resources about alternative fuels, and specifically CNG and LNG.  If you would like more details on any of the sessions we attended, or would like information about some of the resources, please feel free to email me at jclark@nationalease.com.
With our heads full of information, Andy and I drove past all the monuments one last time on our way to the airport.  We got back to Chicago in time to see (at least on TV) the crowds of more than two million people filling the streets and Grant Park to celebrate the Stanley Cup victory. Go Hawks!
Next month, I will be back on the road to visit members again.  I look forward to my next adventure!
Featured image source: upload.wikimedia.org