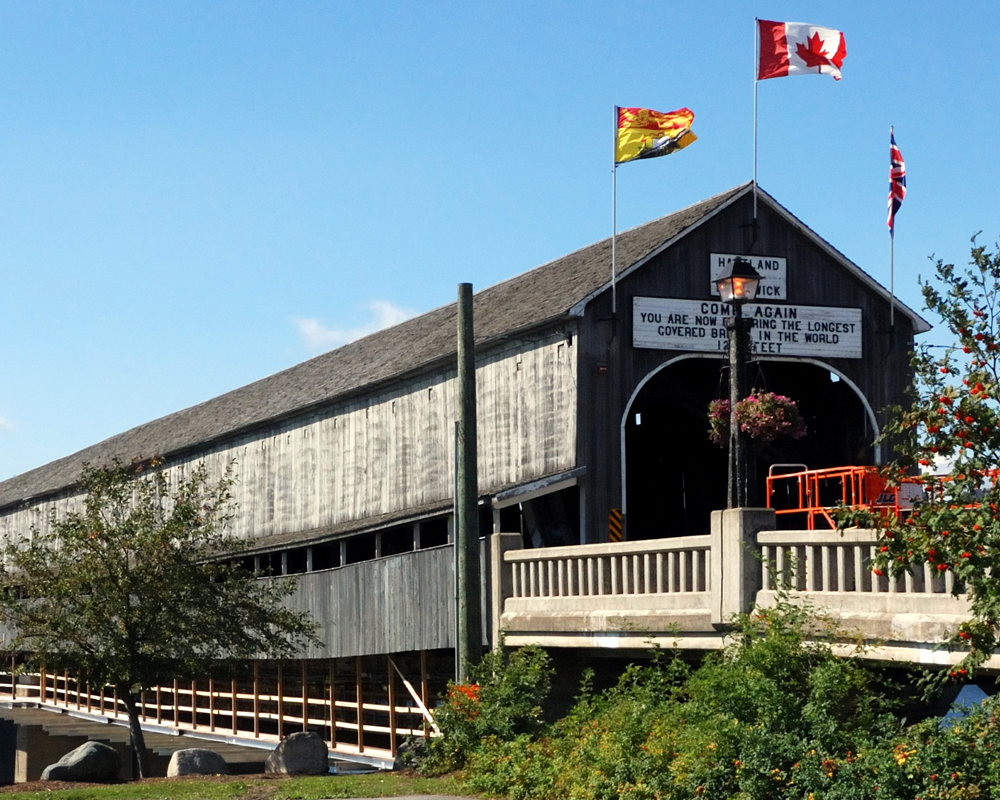 I kind of wish that I hadn't written about family so much in last month's blog. Not because what I said wasn't true, because it absolutely is. It's just that I don't want to sound like a broken record. As I reflect on my June travels, the only word that I can use to sum up the entire trip is "family". So, at the risk of being redundant, let me tell you why I have no choice but to write about the NationaLease family again.
My trip was a little different this month. I was on the road for three days, but I only visited one of our members. VEL Leasing is located in Hartland, New Brunswick. Getting there from Chicago requires changing planes in Philadelphia, renting a car in Bangor, ME, driving across the Canadian border into the Atlantic time zone (yes, there actually is another time zone in North America east of the Eastern time zone) and finding your way into this town of 900 people. Peter Cook and Florin Allen met me on the outskirts of town and guided me toward the Covered Bridge Golf Club. Peter's wife joined us there, and we ate dinner overlooking a spectacular view of the St. John River valley. I would soon find out there was no shortage of spectacular views around here. The rolling hills, river, and miles of farmland and trees offered scenic vistas at every turn. After dinner, they accompanied me to find the Tannaghtyn, the Bed and Breakfast I booked on advice of Kevin Hoyt of VEL. Not only were the accomodations lovely, and the breakfasts delicious, but the view of the St. John River certainly didn't disappoint. The next morning, as I went for my morning run along the river road shrouded in fog, it almost felt like I was in a different world.
After my run and a delicious breakfast, I drove across the bridge into Hartland. The town is famous for the world's longest covered bridge, which I passed on my way to VEL. Once there, I met with Peter and Kevin and we discussed their growth over the last few years. Their business is very impressive, especially in a town as small as Hartland. We reviewed the NationaLease programs available to them, and I got a full tour of their shop from Murray Dickinson. After lunch at a great local restaurant, Jeremiah's, Peter took me on a drive around the area to see some of their other businesses, as well as the local industry. Potatoes are the primary crop in this farming community, and a nearby potato chip factory takes full advantage of acres of potatoes harvested here. I went back to the Tannaghtyn to change clothes for the evening's festivities—a lobster boil at the family camp.
Peter picked me up, and we drove through the woods and down to the end of a dirt road, where the Cook family camp is located. Not surprisingly, the views were once again breathtaking, especially overlooking the river from the deck. Kevin arrived with a pickup truck full of live lobsters that had been swimming in the ocean just that morning, and as the crowd started to gather, the lobsters began to boil. Along with Peter's two sons, Ben and Caleb, and a number of the VEL staff, several of their customers joined us. It seems a lobster boil at the Cook's is known as an event not to be missed. I had a chance to talk to both staff and customers, and I wanted to learn more about how a leasing business could be so successful in such a tiny town. It didn't take long for the secret to become clear to me. Employees and customers alike told me stories about how wonderful it is to work with the Cook family. Many of the employees have worked there for more than 30 years. Customers related examples of service that go beyond any customer service policies a company could mandate. Everyone in a small town has a reputation, and the reputation VEL has built is more than being a good company. They are a family.
The next morning, I stopped back in to chat with Gordon Phippen and Caleb Cook and met with Charlie Lawrence and Mike Hargrove to review our purchasing programs, before making the reverse trip back across the border, through Maine and Philadelphia and back home. As I thought about my trip, I realized that all along the way, one of the VEL folks was always taking good care of me. From recommending a charming bed and breakfast, to meeting me outside town so that I wouldn't get lost, to an unforgettable lobster feast, I didn't have to worry about a thing. It sounded a lot like the stories I heard from VEL's customers. Doing business with them is easy because they take care of everything. And they are not the only ones. I hear similar stories whenever I talk to NationaLease customers, both in small towns and large cities. The above-and-beyond service keeps them coming back. The secret is the same throughout the NationaLease system, and it's a simple one. Treat everyone like family. It really never gets redundant.
Image source: commons.wikimedia.com