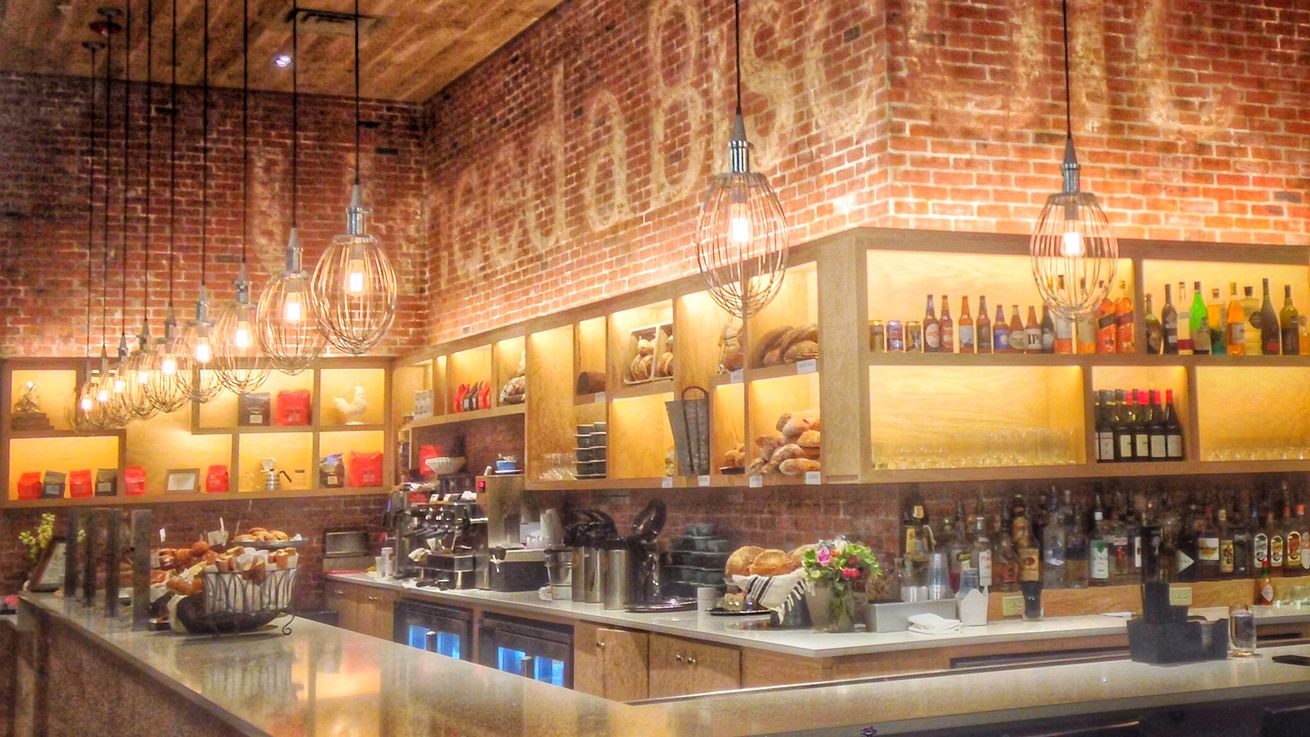 If you don't like food, you can stop reading now.  My July trip was all about the food… well… and of course about visiting our great NationaLease member in New Orleans!  I was planning to meet with Southland NationaLease on Monday, so I took the opportunity to leave early and spend the weekend in New Orleans.  The Big Easy is famous for a lot of things, some of which are not appropriate to mention in this family-friendly blog, but among the top attractions to the city are the abundance of fantastic restaurants, ranging from hole-in-the-wall to celebrity chef.  My goal was to get to as many of these as my stomach would allow.  On the plane, I channeled my inner Anthony Bourdain and plotted my course to eat my way through the Crescent City.
To my delight, the first stop on my list was actually inside the hotel where I was staying.  Borgne is noted as one of the best places in the city for Louisiana seafood.  Headed by Chef John Besh, the menu reflects the commitment to local, sustainable seafood.  The place was packed with the pre-concert crowd, as the hotel and restaurant are just a block away from the Super Dome.  I was able to find a spot at the bar and asked the bartender to recommend his favorite seafood dishes on the menu.  He brought me an appetizer of delectable fried oysters, followed by the Black Drum smothered in lump crab, brown butter, and pecans.  My trip was off to an excellent start!  The next morning, I continued on my journey with brunch at Willa Jean.  I got there just early enough to beat the brunch crowd, which was lining up out the door by the time I finished my meal.  The unique menu offered several options, both sweet and savory, but I finally chose the Crawfish Bread, which turned out to be a thick slice of crusty sourdough, covered with gooey burrata, and topped with rich, buttery crawfish etouffee.  Heavenly!  I spent most of the day walking around the Warehouse District, so by dinnertime, I had thankfully worked up an appetite.  Next on my agenda was a visit to the restaurant of one of the most famous of the New Orleans celebrity chefs—Emeril's.  I met up with some friends and we walked over to the famed flagship restaurant housed in a renovated pharmacy warehouse in the Warehouse District. I ordered the gumbo and the evening's special, which was a soft-shell crab creation involving corn meal arepas and, of course, a decadent sauce.
At this point,  I had checked quite a few of the New Orleans staples off my list—oysters, crawfish etouffee, gumbo—but I had a few more to go, so I headed toward the French Quarter the next morning for one of my favorites, beignets, and café au lait.  I typically try to avoid places that have a lot of tourist hype, but I make an exception for Café Du Monde.  The Original Cafe Du Monde Coffee Stand was established in 1862 in the New Orleans French Market. The Cafe is open 24 hours a day, seven days a week. It closes only on Christmas Day and on the day an occasional hurricane passes too close to New Orleans.  The menu consists of dark roasted coffee (New Orleans style, which includes chickory), beignets, milk, and orange juice.  There is always a line for the outdoor covered seating, but it moved quickly, and I was soon getting my fix of fried dough covered in powdered sugar.  From there, it is only a couple of blocks to the French Market.  I spent several hours wandering through the variety of stalls there, and then past the artists selling their wares in Jackson Square, and the shops on Royal Street, stopping to listen to the incredible musicians that you can find on nearly every block in the French Quarter.  As dinner time rolled around, I again met up with some friends, this time at Tommy's Cuisine.  Tommy's advertises their food as "classic Creole Italian."  I didn't know that was a thing, but I do know that it is delicious!  I barely had room for my entrée of shrimp linguine after sharing the hot and cold seafood appetizer, which had every kind of seafood you can imagine from mussels to escargot.
The next morning, I left the hotel for the real reason for my trip and made my way to Harahan to visit Rodney Dutreix at Southland NationaLease.  We talked about the new NationaLease Fleet 20/20TM customer web portal that allows our customers to view and manage their fleet and create customized reporting.  We also discussed the upcoming Annual Meeting which will be in Chicago on September 18-19, and the Sales Meeting , which will be held in New Orleans this year, at the Royal Sonesta hotel on Bourbon Street on November 16-17.  It was getting close to lunchtime, so Rodney and Gabe Clark took me to the Rivershack, a local favorite made famous by an appearance on Guy Fieri's Diners, Drive-Ins, and Dives.  Here, I learned about a very important New Orleans tradition: Monday Red Beans and Rice.  Apparently, this tradition started back when Mondays were the traditional "wash day" of the week. The women of the house would put on a pot of red beans to cook all day while they tended to the laundry since the meal required little hands-on attention. The beans were largely seasoned by the leftover hambone from the previous night's dinner.  While Monday wash day is now a thing of the past, Monday Red Beans and Rice lives on as the Monday special on many local menus.  I took this opportunity to check one last New Orleans staple off my list before leaving Nola.
You might argue that I wasn't able to accomplish my mission.  There are so many fabulous restaurants and dishes in this town—Po' Boys, Muffalettas, Jambalaya to name a few—that I didn't get around to.  But as much as I love the food here, and I think you can tell by now that I do, my true mission is to learn about and support our awesome NationaLease members, here in New Orleans and all over North America.  After all, we wouldn't be able to eat the great food in any city unless we had trucks delivering it to the restaurants.  And I know for a fact that Southland NationaLease customers are responsible for delivering a lot of the food in this city.  Besides, I'll have another chance when I'm back in November for the Sales Meeting!